Podophilia: Foot fetish
Written by Italian kinkster Arazatah
Do you remember the first time your foot fetish raged inside you? I vividly remember mine. It would be impossible to forget the first time my petite, fair-skinned feet were worshipped with total devotion, passion and extreme delicacy. Since then, I can recall every encounter with a foot fetishist. It is one of my most-adored kinks.
But back to the first time: it was a hot summer in Italy, Rome, and after a gruelling exam period I finally had some time for myself – I finally had some time to play. I set up an ad, and was soon bombarded with emails from eager submissives. Over coffee and ice-cream, I met lots of people, each with their own story to tell, each with their own desire to worship my feet.
After lots of fruitless meetings, I finally found the submissive I wanted. We arranged to meet. I was wearing strappy high heels sandals, a soft light brown leather that accentuated the loose, flowing dress I was wearing. Having no idea what to expect from an encounter, I could feel the excitement and nerves flutter in my stomach.
I can still picture the scene so clearly in my mind – we met at his place, in an elegant, bourgeois living room in a wealthy area of Rome. Think wooden polished floors; a library full of books; crisp, white curtains. I was sitting on a large, cream-coloured sofa, he was kneeling in front of me. I could tell he was nervous as well – his voice trembled. I loved it.
A hand on the nape of his neck, I ordered him to smell my feet through the sandals. The sniffing was intense, I could feel his breath on my toes, my musky and pungent scent from walking around the city in summertime. Leather and sweat – entering his nose for the first time. Watching this middle-aged man, the portrait of the successful bourgeois, kneeling in front of me, enraptured by the smell of my feet, was inexplicably powerful. I could feel the muscles of my legs tightening in anticipation.
I then ordered him to lick the dirty, grimy soles with which I had walked all around Rome that hot summer day. He obeyed immediately, but I wasn't expecting the pulse in my groin – I had always thought that licking shoes was just part of the fetish imagery, I hadn't expected such an arousal response for a gesture that didn't touch anywhere above my ankle.
Every strap was carefully unbuckled, before giving me a massage: between his capable hands I could feel my feet softening. My feet now yielding and warm, he started licking my toes – it was a surprisingly delicate sensation feeling his tongue on my soles, along the arch, nibbling delicately at my heel. His hands, fondling my instep and my ankle, sent shivers along my back. I have sensitive feet, and the arousal his touch created shot through my entire body…
I felt a rush of power, seeing my small fair-skinned foot on his tanned and expressive face, disappearing in his mouth, watching his foot fetish come alive. I moved my foot back and forth, forcing him around it, making it – making me – the centre of his universe. From then on, I commanded the days and times when we would convene for him to worship my feet. He would do it with total devotion, passion and extreme delicacy.
*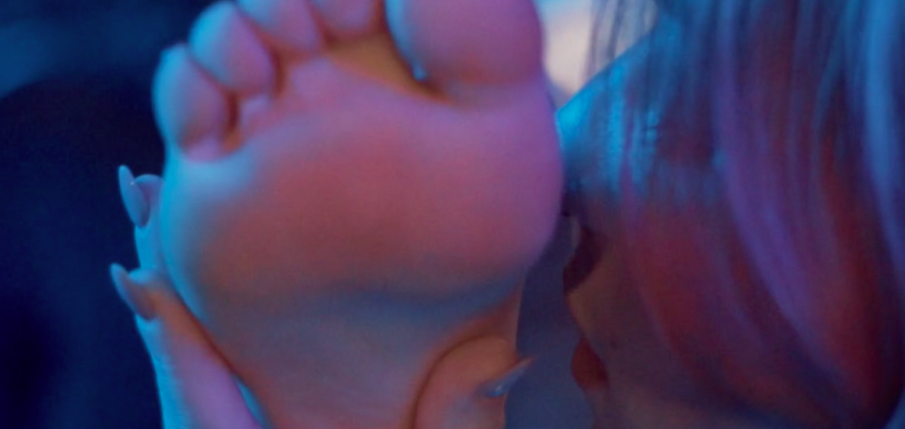 Did you know that there are almost 200,000 nerve endings in the feet? The sensuality of a foot fetish is undeniable – for both submissive and dominant. I come alive when pressing my toes into someone's mouth, the sensation of my stockings under their lips, how I slowly unravel my legs to reveal my pretty painted toes.
Foot worship is one of my most-adored kinks, it has a meditative quality to it. I love how sensually dominant it is; in fact, I incorporate it almost into all of my sessions. It puts the submissive in his place, in a sensual, nurturing way that is perfect for both novices and the curious – those who are interested in expanding their vanilla experiences. Many of my subs discuss with me how they completely lose track of time when worshipping.
There are myriad ways to incorporate foot worship into a scene; like all power play, the psychological aspect of the experience is crucial to the kink itself. Depending on the dynamic it can be soft, nurturing – a true goddess-like experience. I can guide them to the places I like the most – my instep and toes, for example – as they look up at me, watching my eyes shut in pleasure. Or, I can really fuck someone's mouth with my feet, make them gag, watch their eyes water, their face becoming blotchy and red.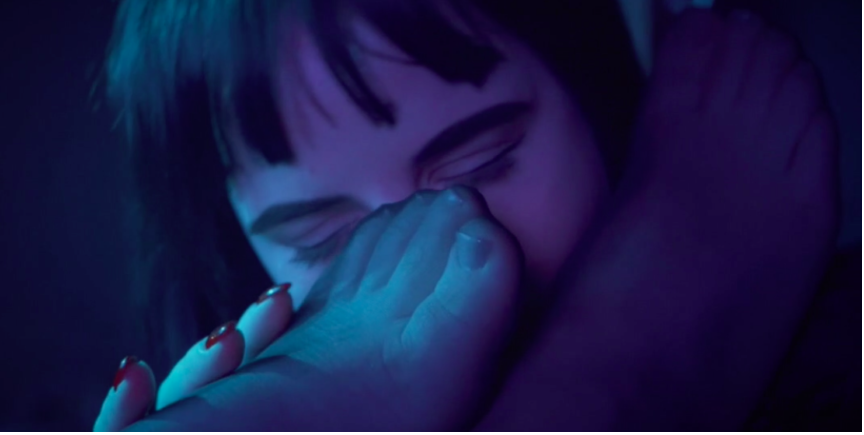 As an Italian dominatrix, I find it fascinating that Italians are huge foot fetishists. It will come as no surprise, then, that I am also a foot fetishist myself. I simply adore girls' feet. During duos, I avidly take up workshipping one of my KLE friends' feet. I lose myself in the moment, as you can see from these images of Amelia Laurent and I. For me, the pleasure is in the slow build-up, moving my lips and hands across her entire leg, down to her perfectly pedicured feet and up again. Nothing is more blissful than a soft smooth foot being pressed into my face.
Advice, from a foot fetish pro
Approaching a foot fetish escort for a foot worship session can be a nerve-wracking experience. Do your research, decide what mistress you like, explore what their limits are, what they enjoy, and follow their guidelines for how to contact them. While you're here, you should also read KLE's guide to Foot Fetish Escorts.
In my experience, feet should be massaged first, to get them warm and fully sensitive – especially after being encased in high heels. With the feeling of large rough hands giving me a massage, my focus shifts to each area my sub is touching, as they become more alive and more sensitive to touch.
My advice for the beginner? Dedicate the whole of yourself to her feet. Don't merely focus on the toes, or the soles, but incorporate the instep, the arch, the ankle, the heel. Observe, watch every foot crease expand and contract depending on how I move it in front of your face. Hold my feet together, look at the symmetry, my perfect cute little toes lined up in a row. When she fucks your mouth with her foot, be grateful that she's willing to stretch your throat to its limits. Be grateful that you absorb the dirt of the city through the heel of her boot. When she caresses your neck with her foot, lean into it, close your eyes, and listen to the sensations her dominance wakes up in your body. You won't be disappointed, and I guarantee this won't be your last experience with a foot fetish escort…